TINGARD

— seamless plastic cellar

#1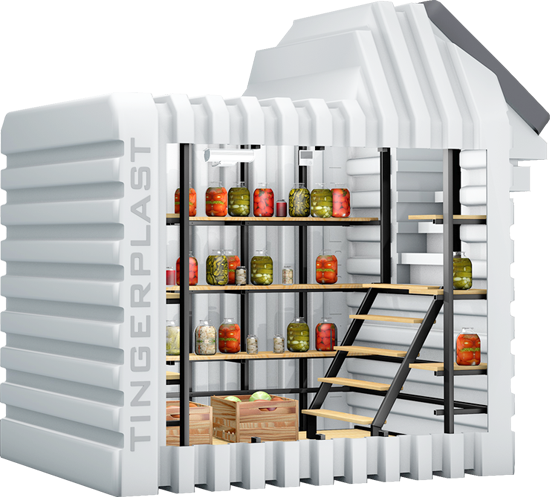 Supply and exhaust ventilation
Wooden shelves of 2-3 levels
Benefits
Seamless, sealed
TINGARD is manufactured using a special technology – the method of rotational molding. Due to this, the product does not have welding seams. The cellar is a one-piece construction and has absolute leakproofness.
Durable food grade plastic
We use durable and safe for the environment and human health food grade polyethylene (LLDPE) in the production process of TINGARD. The material has increased durability, hardness and impact resistance. Mold and fungus do not live on it and do not multiply.
Warranty 2 years
Full confidence in TINGARD cellars allows us to provide a 5-year warranty. During the warranty period, the Buyer has the right to free repair of the product due to malfunctions resulting from manufacturing defects.
The service life is more than 100 years
Highly durable food grade polyethylene and manufacturing technology makes the TINGARD cellar almost eternal, which will serve you and your grandchildren.
Comfortable temperature for food storage
TINGARD is equipped with natural-type supply and exhaust ventilation. A well-thought-out system allows you to maintain the necessary humidity level and a comfortable temperature indoors all year round.
It is not subject to corrosion and external factors
The plastic cellar of TINGARD does not form dampness and mold, it does not rot and does not rust. TINGARD is equipped with a built-in metal frame made of 13Mn6 steel DIN 17145 (09G2S GOST 19281-2014), which is 50% stronger than ordinary steel. This ensures the durability of the cellar, and allows it to withstand the pressure of heavy soils, as well as high groundwater.
Comparison of the TINGARD cellar with other cellars
Seamless plastic cellar
The TINGARD cellar is not subject to corrosion and does not require additional maintenance
Welded cellar
The walls of the cellar do not hold pressure due to the lack of a frame
Concrete cellar
It is a good breeding ground for fungal organisms
What's included
Floor and shelves

Ladder and metal frame

Weather station and lighting lamp

Hatch cover and handrail

Supply and exhaust ventilation

Mini Cargo Lift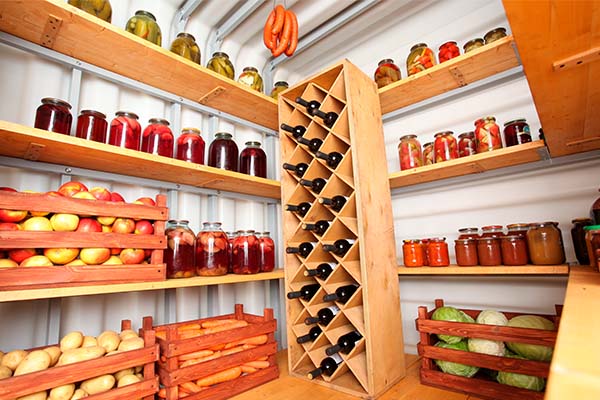 Floor and shelves
The standard equipment of TINGARD includes a wooden floor and comfortable wooden shelves located around the perimeter of the cellar on three levels. The floor and the shelf system are made of dry coniferous wood, additionally treated with a special antiseptic to give an aesthetic appearance, as well as protection from the formation of fungus and mold.
The width of the shelves is 300 mm, which is optimal. On such shelves it is convenient to store three-liter cans in two rows and boxes with vegetables.
Depending on the model of the cellar, the shelves allow you to place:
TINGARD 1500 – 102 cans, 8 boxes
TINGARD 1900 – 203 cans, 20 boxes
TINGARD 1900-B – 203 cans, 20 boxes
TINGARD 2500 – 251 cans, 25 boxes
TINGARD 2500-B – 250 cans, 25 boxes
TINGARD 3000 – 300 cans, 30 boxes
TINGARD 3500 – 350 cans, 35 boxes
Mini Cargo Lift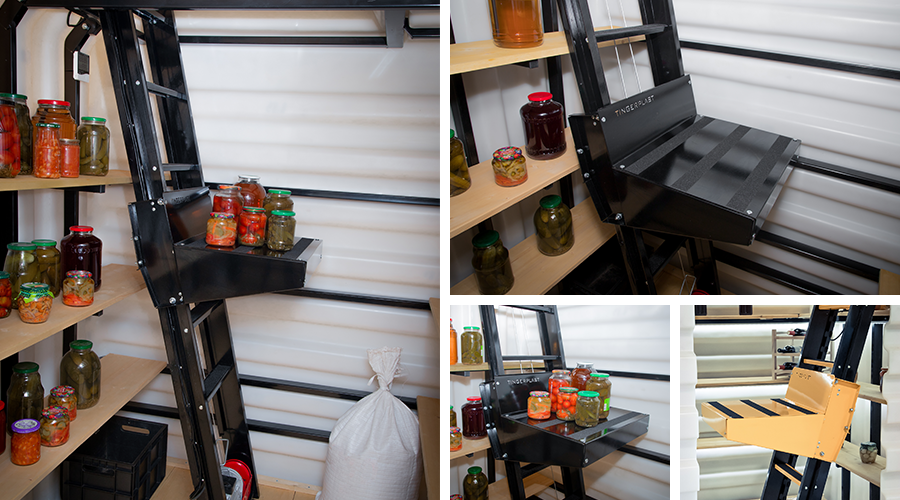 Load capacity 150 kg
Two colors — black and yellow
Anti-slip strips
Made of galvanized metal
Covered with powder paint
Product line
1500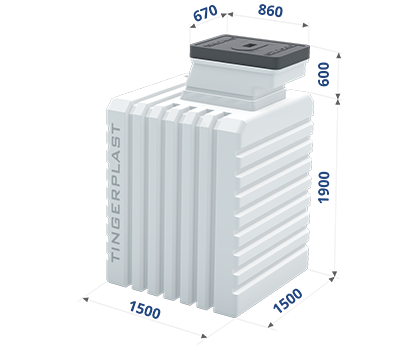 1900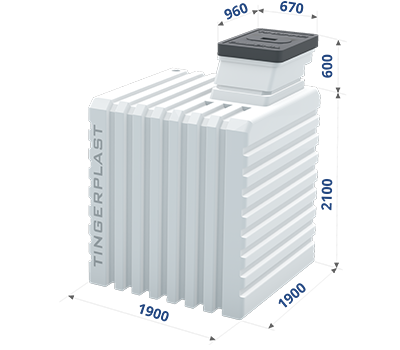 1900-B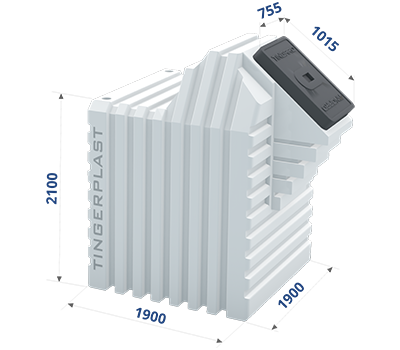 2500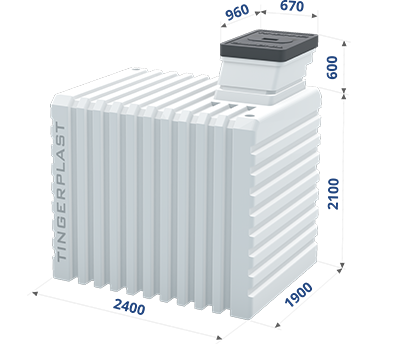 2500-B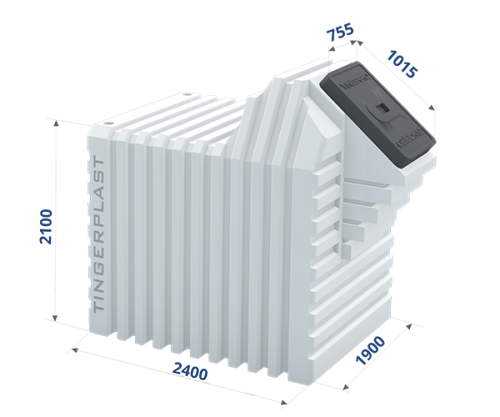 3000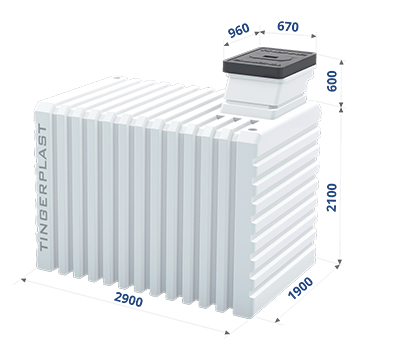 3500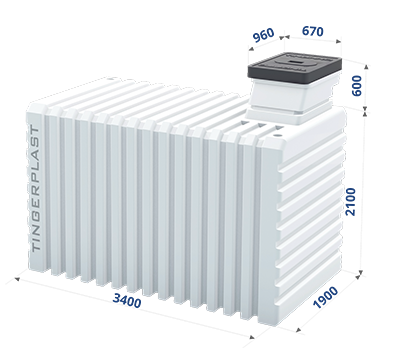 Characteristics of TINGARD cellars
1500
1900
2500
3000
3500
1900-B
2500-B
Dimensions l/w/h
150/150/250 cm
190/190/270 cm
240/190/270 cm
290/190/270 cm
340/190/270 cm
250/190/270 cm
300/190/270 cm
Entrance
67 х 86 cm
67 х 96 cm
67 х 96 cm
67 х 96 cm
67 х 96 cm
101.5 х 75.5 cm
101.5 х 75.5 cm
Wall thickness
up to 15 mm
up to 15 mm
Weight
430 kg
650 kg
740 kg
850 kg
950 kg
670 kg
760 kg
Leakproofness
100%
100%
Material
Food grade polyethylene
Food grade polyethylene
The service life
is more than 100 years
is more than 100 years
What's included
Metal frame
Metal ladder
Manhole cover
Wooden flooring
Collar for the cellar neck
Exhaust ventilation
Supply ventilation
Weather station
Built-in LED lighting
Wooden shelves